When we had a vendor booth at the Vancouver Snowball, it was such a wonderful opportunity to see people interact with our jewelry, which we don't get to very often with a webstore.
A common question was:
"How do you wear this?"
(usually referring to the hair accessories)
While we usually have an idea how the item will be worn when we design it, the real answer is: you can wear it any way you like! There really is no wrong way to wear it – especially in ballroom. If it's sparkly, then it's good.
Hair ornaments can even be brought towards the front of the face and depending on the design, you can have some of the ornament come across your forehead (which would require using adhesive like eyelash glue, or click here for more information).
Most of the hair accessories do not have any sort of comb attachment on the back, allowing for more options when you decide it's placement in your hair. We do put combs in the heavier hair accessories, however most of them are lightweight and have nothing on the back. This can be confusing to people who aren't used to glueing things to their face/hair or stabbing themselves with hair pins. But don't worry – you'll get used to it 🙂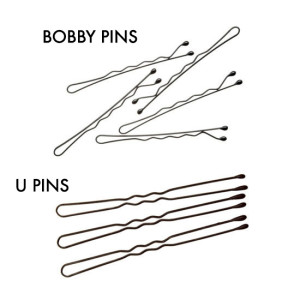 In the picture above, you'll see two types of hairpins: bobby pins and U pins. Many are familiar with bobby pins but we do get some questions about U pins (bobby pins are usually easier to find than U pins as well). Both will work to secure the accessory to your hair, but we prefer to recommend the U pins because they will lay flat. A bobby pin's ends will stick up once the hair and the accessory is wedged in. Because the hair will be pulled back with lots of hairspray and gel, the U pins work great.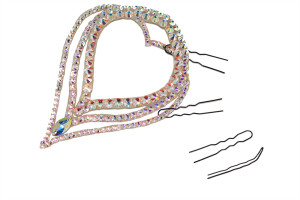 Plus you can also bend the U pins if you need them shaped for a better fit.
Remember that any combination can be used between adhesive, U pins and even Bobby pins. Depending on the ornament and placement (and if you have extremely short hair), you can glue the entire thing to your hair.
Also, the foundation for nearly all dance competition hairstyles is that the hair is pulled back really tight against the head (and use a LOT of hairspray. LOTS!). This makes it very easy for the u-pins to secure the hair accessory into the hairstyle. Ballroom competition hair is not like prom or wedding hairstyles. If you make your hair poofy like a Gibsons Hairstyle (see photo below)
…..it will be extremely difficult to fully secure any type of hair accessory to your hair, as well as appear "messy" looking and often won't last a full competition anyway.
Hopefully this helps! As always, if you have any questions, we're more than happy to answer them. Email us anytime.