Tiaras are a fun and unusual accessory for dancesport. You can add these to the top of your head and wear them like a mini-crown, or you may use the side pieces down the side of the head (like a headband style). They also look lovely around a high bun!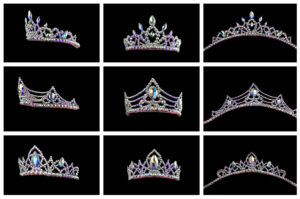 Our tiaras have a comb attachment at the front to help secure them to the top of the head. They're relatively lightweight, but you will have to pay attention to trying not to knock it too often (for example, during an under-arm turn!).
Here's our lovely mannequin head (she's a little bit creepy… so we don't like to show her face often, but her hair is handy!) to show how to attach the tiara:
1. Start just ahead of where you would like the tiara.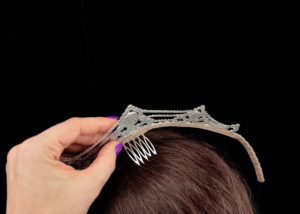 2. Slide comb into the hair.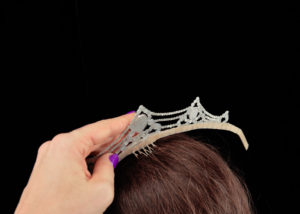 3. A great way to secure the comb area is to run a bobby-pin (or two) across the comb with the hair.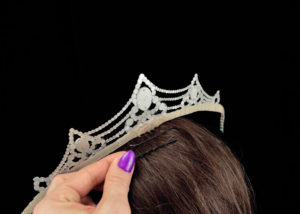 4. Take the sides (they're more flexible) and you can wear them two ways…

Voila! You are now dance royalty.
(You can find some of our tiaras here). More will be coming ;-P
Save
Save
Save
Save