Growing up, my mother was a hairdresser – she used to always say "You dye your clothes, you colour your hair!" any time my sister or I talked about how we wanted to dye colour our hair.  Old habits [dye] hard… now I want to say "color my shoes" instead of "dye my shoes"….
But anyway, my competition pair of standard shoes were starting to look pretty ratty, so I thought I would dye them black to match this one dress/look I have. Some of my older dance instructors have mentioned how they love the "nude" shoe because back in the day, they always had to dye their shoes to match the dress. Plus having a skin-tone shoe elongates the leg line. Currently you don't see a huge quantity of dress-matched shoes, aside from possibly white satin shoes.  But every once and a while, you'll see someone with strategically coloured shoes, and honestly, I LOVE IT!
So I'm taking the plunge. I'll start with black (I do have red and fuchsia and blue on the list… but in time). After reading a few sketchy stories about shoe dye, I made my order with Manhattan Wardrobe Supply… they didn't ship to Canada unless I have my own account with DHL or Fedex – which I do – so they kindly helped me out with my order. Their customer service was fantastic and I received my order quickly.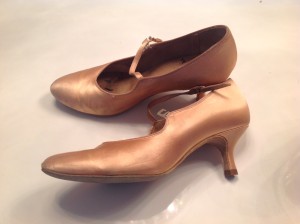 I started out by washing my shoes which surprisingly  came out much cleaner than I expected (and smelling marginally better, I may add!).
I followed the instruction video I had watched from Manhattan Wardrobe supply and taped the suede soles with frog tape (or painter's tape – perhaps the only bonus to living in permanent home renovations is that you usually have these things on hand!). Taping has never been my favourite thing, and when I took the tape off at the end I discovered a few places where the dye did get on the suede, giving a bit of a jagged look to the edge. It's not the end of the world from far, but these details are nice to control, so make sure you tape up that suede nice and good!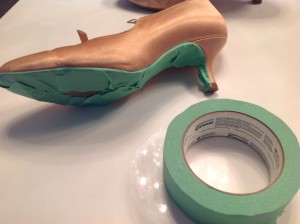 Now for the fun part. Painting!!! Just like the vid, I started at the heel and made swirlie motions. I ended up using just under half a bottle of black dye, doing two coats (and allowing to dry in between).
And voila! There they are. It wasn't as scary as I thought it would be, although I think part of the bravery comes from having another pair of competition standard shoes as a back up, just in case.
I did put a coat of scotch guard over them as well. It stated somewhere online that you shouldn't get them wet. I'm not sure what will result when my feet sweat (yes, that happens) or if I ever need to clean them now that they have been dyed. I'll have to update this post at a later date, once I've been out a few times with them 😉
**UPDATE***
I broke an old nasty pair of my standard shoes so I thought they would make perfect test-shoes for random stuff. Here i tried dying the tan satin red – which worked successfully. I also tried splashing it with water after – BAD. Getting water on the shoes after you dye them with this particular dye WILL cause the dye to run, and leave a mark where the wetness occurred.  However if you spray them with scotch guard (yes, the good old standby! LOL) the water will bead off and protect the colour… so i highly recommend spraying the shoes with scotch guard after dying them!