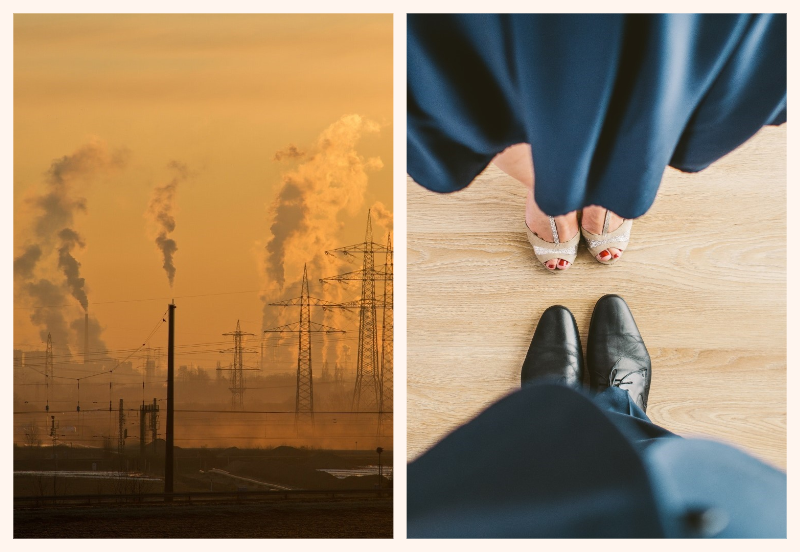 Hi, our name is Tzafora and we are addicted to ballroom fashion and we care about climate change.
The two passions are not mutually exclusive, although we admit that couture *sometimes* takes precedence.
How could it not?
The headpieces alone can keep us scrolling through shops until 2 am with visions of Swarovskis and satin flashing across the stage with savage gleam. But then, one look at the price tag on a fresh, hot, glorious Latin outfit and…

We just cannot.
We WISH we could spend that much on one dress, but…If you're like us, you then go hunting for cheaper versions of similar looks, and you'll feel your heart rise with hope when you find a "fast" option.
Problem solved, right? You'll look amazing without destroying your bank account.
Not so fast on your 'fast' fashion solution…
"Why?" you ask…
It's awful for the planet.
In fact, the fashion industry appears to be responsible for emitting five percent of global greenhouse gasses. That's about the same amount of emissions as the global aviation system.
Yikes.
Although not always the case, it stands to reason the companies that are mass producing cheaper versions of dancesport clothing are likely the ones that aren't as concerned with environmental regulations.
And while the superheroes of sustainability within industries fighting to stop climate change are hard at work figuring out all the many points of impact as well as the way raw materials are sourced, we need to spark up our fashion with a little compassion, too.
I mean, we aren't fully Cruella De Vil with Dalmation puppy hides tossed over our shoulders, but we gotta admit to a little guilt over not helping the problem.
Tips like avoiding dry cleaners that still use toxic chemicals or washing your own dancewear with clean detergents in cold water are some things you can do. But what about your competition ensemble?
Don't worry, you can still look fab without selling your soul to fashion devils. 
Here are 4 common sense but not-so-common solutions:
1. Rent. Yeah we know, it's a pain in the bedazzled ass to do this, but there are some fantastic companies that do a really great job with offering super hot options.

Online stores that offer rental options
like Encore Ballroom Couture, or
Rhythmic Rentals
can be a legit way to try numerous looks on a budget. Just be sure to understand their protocols and prices with renting.
2. Buying used. This can be tricky for sizing and purchasing something you can't see before buying, but you can always find something solid and take it to a tailor for alterations once you've tried it on. A quick search on

Ebay
showed some promising selections.
3. Go simple and style it up AF. Here's an option for you more creative dancers: Get something basic, then make it your own. Obviously, this is when accessories can become your focus, so have a look at all our

clearance bling.
4. Save up for something timeless and classic (check out this high-end couture store). This means keeping your choice plain enough that you can accessorize with more trendy looks, but blowing your budget on something high quality yet simple means you can have years of alterations and additions so that no one will be the wiser to your recycling skills.
Another resource that lists and rates eco-friendly brands is the
Good On You app
so you can check out all the clothes you're drooling over prior to buying.
These are just a few ideas to help keep us fashion addicts accountable to our planet, without looking drab.
We want to hear from you! Post a picture (or video) of you in your repurposed or rented looks, so you can encourage other dancers with your budgeting and creative skills! And if you have any other tips on how to combine compassion with fashion, let us know!